Meyer lemon (dairy-free) cheesecake with strawberries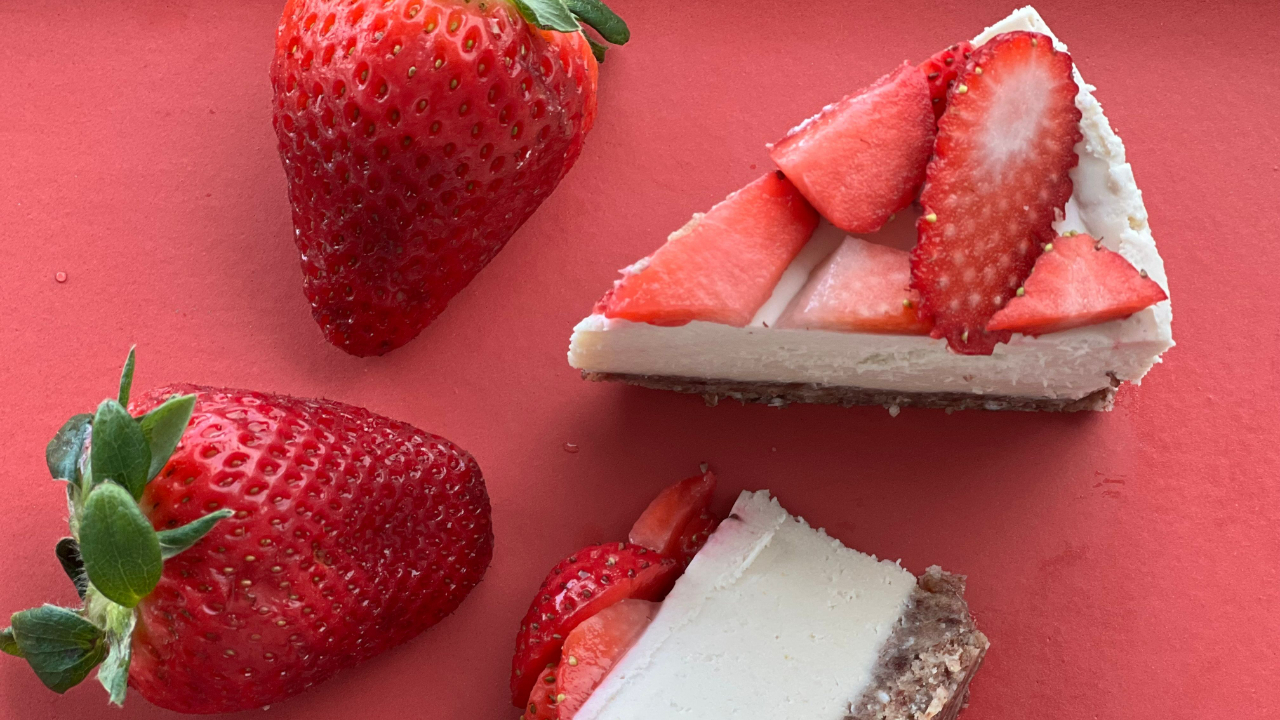 (recipe adapted from Angela Liddon's "Oh she glows everyday" cookbook)

Note, advance prep (overnight or at least ~8 hours) is required for this recipe, but I promise, it's 100% worth it!
I like to make this the night before a party, but if that's not an option - you can make it the morning of your party, provided it doesn't start until early evening.

Ingredients for crust:
1 ½ cups (375 mL) raw pecans

¼ cup (60 mL ) unsweetened shredded coconut

½ cup pitted Medjool dates

1 T (15 mL) coconut oil, warmed to liquid consistency

1 tsp (5 mL) water

Pinch of sea salt


Ingredients for filling:
1 ½ cups (375 mL) raw cashews

1 T (15 mL) Meyer lemon zest*




*Note, regular lemons work too, they're just not quite as tasty as Meyer lemons!

½ cup (125 mL) fresh Meyer lemon juice

½ cup (125 mL) maple syrup

½ cup (125 mL) coconut oil, warmed to liquid consistency

Pinch of sea salt


Advance prep (overnight or at least ~8 hours before you plan to serve this dessert):
Soak the cashews in a bowl of water overnight

or

for a minimum of 1-2 hours to soften




Note, the quick soak method = soak the cashews in boiling water for 30-60 minutes.




Drain & rinse before using.

Grease a 7 inch (1.5 L) springform cake pan with coconut oil.


To make the crust:

In a food processor, process the pecans until a coarse meal forms. Add the shredded coconut, dates, oil, salt & 1 tsp of water and process until the mixture comes together.
Note, it should stick together when pressed between your fingers (If it doesn't you can add a tiny bit more water and process again).
Spoon the crust mixture into the prepared (greased) pan - spread it out evenly along the base - press down firmly with your hands until smooth and even. Place this into the fridge while you make the filling to allow it to start to set.



To make the filling:

In a high-speed blender (e.g., a Vitamix) combine the cashews, lemon zest, lemon juice, maple syrup, melted coconut oil and salt. Blend on high until

super

smooth - you don't want any grittiness.

Then, spoon the filling onto the crust and smoothie it out evenly.

Cover the pan with aluminum foil or plastic wrap and carefully place it on a flat surface in your freezer. Freeze until solid, this typically takes at least 6 hours/overnight.

Allow the frozen cheesecake to sit at room temperature for ~30-minutes before slicing it.

Serve with sliced strawberries

Enjoy!