Coconut chia pudding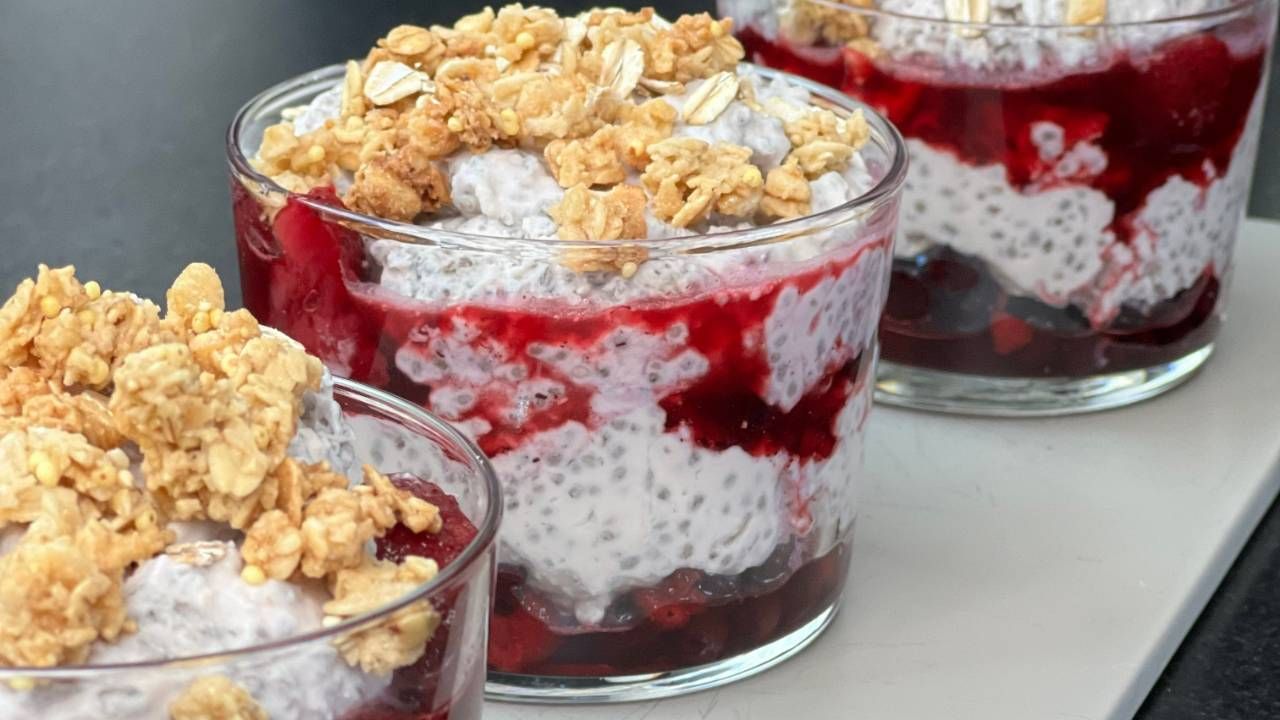 This is the second chia pudding to make it onto my website…I'm sharing it because I've been working with increasing numbers of people for whom a banana (a high glycemic fruit), which I used in my other chia pudding recipe, was causing a blood sugar spike.

This recipe, adapted from Angela Liddon's "Oh she glows everyday" cookbook, is super easy, and features berries (lower glycemic fruits) which shouldn't spike blood sugar.

*This could be used as a tasty dessert option (after a full meal, and before a walk!) OR as an easy breakfast option Note, if it's going to be for breakfast I recommend making it in bigger jar so you can have room to add nuts & seeds (e.g., almonds/walnuts/pecans & hempseeds/flaxseeds) as well as some collagen to increase the protein content.

Ingredients for chia pudding:
1 x 14 oz can of coconut milk - choose full fat for extra creaminess

¼ cup chia seeds (whole)

1 T of maple syrup/date syrup (or to taste)




Note, you also try replacing this with few drops of monk fruit or

liquid allulose

instead. FYI - I'm NOT endorsing liquid allulose but want you to know it may be an option.

1 tsp vanilla extract

Pinch of salt




Ingredients for the parfaits:
Mixed berries, previously frozen & allowed to thaw so you get the 'juice/liquid' from the berries once they've defrosted

Low-no sugar granola (optional)

Large flake coconut chips (optional)




Directions:
The secret to making an appetizing looking chia pudding is to make the chia pudding first and

then

assemble the parfaits afterwards.

In a bowl or large Mason jar whisk the coconut milk, chia seeds, maple/date syrup (or whichever alternative you've decided on), vanilla extract & salt until well combined.




Note, I like to do this very quickly in my Vitamix…any good blender will do, but know you'll only need to blend it for ~10 seconds because you want the chia seeds to remain intact.

Put the lid on the Mason jar or cover the bowl with a plate and refrigerate for at least 3-4 hours or overnight.

Get 3-4 mini glasses (

these are my favorites because they remind me of Spain!

) and fill the base of each glass with a spoon or two of the defrosted mixed berries, then spoon in some of the chia pudding, then add another layer of berries, and keep going until you fill the glass.

Sprinkle granola or coconut chips on top for extra appeal!

Enjoy.